School Meals
Our dedicated catering team at Islwyn High School prepares a range of healthy, delicious menu options on-site daily. A two-course set main meal currently costs £2.25, the amount paid for a free school meal. There are lots of food and drink options to suit most pupils' tastes and we also cater for special dietary requirements. Our menus are fully compliant with The Healthy Eating in Schools (Nutritional Standards & Requirements) (Wales) Regulations.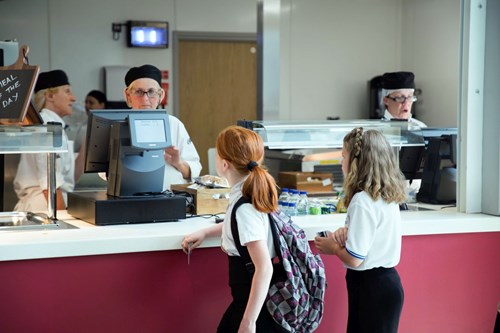 For the convenience of parents/carers and pupils, we operate a cashless system whereby biometric finger scanning technology or a cashless payment card enable pupils to purchase food from their individual account without having to hand over cash at the counter, speeding up service. Our cashless system also means you can keep track of what your child eats in school, and discourages pupils from mis-spending their dinner money, for example on the way to school. The system works the same for all pupils, whether or not they have a free school meal.  Accounts can be topped up with payments as required. There is a cash revaluation machine located in the canteen, but payments can more conveniently be made online by parents/carers. Pupils eligible for free school meals have their account automatically credited with £2.25 on a daily basis.
If you feel you may be eligible for financial support towards your child's school meals please click here.
The My School Lunch pages on the Caerphilly County Borough website give extra information about secondary school meals, including menus and points prizes.
For online payments to pupils' individual accounts, we use Upay Chilli. If you have not already registered, you can follow the link to the upaychilli secure website. You will need your child's User ID from the front of their dinner card, as well as the "affiliate ID" also shown on the card (CBCS).
Belong... Believe... Achieve...